ORDERS OPENED!
Fresh stock just got in so new orders are now accepted, maybe just in time for christmas

This is order for "Chinese lantern" edition with worldwide registered shipping so you will receive tracking number. This is how it looks when you open your solar light to access GBZ battery.
Orders will be shipped from Chinese warehouse and delivery should take 10-15 workdays.
I did have some issues with delivery to Canada and Germany where it took way too long to deliver so will be changing shipping provider.
Once stock is out order link will no longer work.
Custom GBZ 5000mAh lipo battery, 25.00€
International registered shipping, 1.99€/per order
As promised for a while now here is new order link for batteries in stock.
Things have changed a bit at least regarding shipping destinations and shipping types.
For now shipping is only possible to US, continental EU (CH is not in EU) countries and UK
.
Once package is shipped you will be notified by email to address provided by PayPal - all orders, standard or signed for shipping.
Price of battery also includes standard shipping to following countries:
Germany, Austria, Croatia, Czech Republic, Slovakia, Slovenia, Italy, Hungary and US.
There is no tracking available for standard shipping so claims for refund are not possible if package is damaged or lost!
As it turned out so far standard delivery to US takes about 5-7 weeks. For EU countries is 5-10 days.
Custom GBZ 5500mAh lipo battery, 21.00€
Buyers from EU countries please also add appropriate GLS shipping zone from list.
Example 1:
If you are ordering from Germany you don't need to add GLS shipping option if you wish your order to be shipped by standard shipping. If you would like your order to be delivered by GLS add "Zone 1" to your shopping cart.
Example 2:
If you are ordering from Portugal you must add "Zone 3" to shopping cart for your order to be delivered, there is no other option at the moment to ship to that country.
For orders up to 14 batteries add just one "Zone" payment to shopping cart. If you wish to buy more send me a PM.
GLS country zones:
Zone 1: Germany, Austria, Netherlands, Croatia, Czech Republic, Slovakia.
Zone 2: Luxembourg, Belgium, Italy, Denmark, France, UK, Hungary, Poland, Bulgaria.
Zone 3: Lithuania, Portugal, Ireland, Romania.
Zone 4: Latvia, Sweden, Estonia, Spain (with Balearic islands)
Zone 5: Finland
Zone 6: Norway
Delivery time to all zones is 3-5 working days.
GLS signed for shipping to Zone 1, 8.00€
GLS signed for shipping to Zone 2, 10.00€
GLS signed for shipping to Zone 3, 12.00€
GLS signed for shipping to Zone 4, 15.00€
GLS signed for shipping to Zone 5, 18.00€
GLS signed for shipping to Zone 6, 21.00€
About shipping to Greece: I could not get decent shipping price so won't offer it for now. Price I got frm GLS is 40€ so I imagine not many of you would be prepared to pay that much for shipping. If any one is still interested send me a PM.
Orders from Slovenia will be delivered by GLS at no extra cost.
I know shipping price to some countries is high but I'm not making any money of it, even more I'm losing couple of cents in some cases.
If you made a mistake and would like a refund for any reason before order is shipped I will refund it but will keep 0.50€ for nonrefundable PayPal fee and labor.
Stock is limited and PayPal link will last while stock lasts. Once batteries are sold out link will no longer be active.
Like mentioned before here in thread I'm selling this batteries in order to be able to order new batch and organize worldwide signed for shipping directly from China. Orders from first round that weren't shipped so far are first on the list from new batch to be shipped.
Again my deepest apologies to all of you who are still waiting for your batteries. I never imagined it will be so difficult to send this suckers to many of you.
It was mentioned in this thread once but to make it easier I'll put it here:
With new battery being thicker than first samples you also have to remove bottom battery separators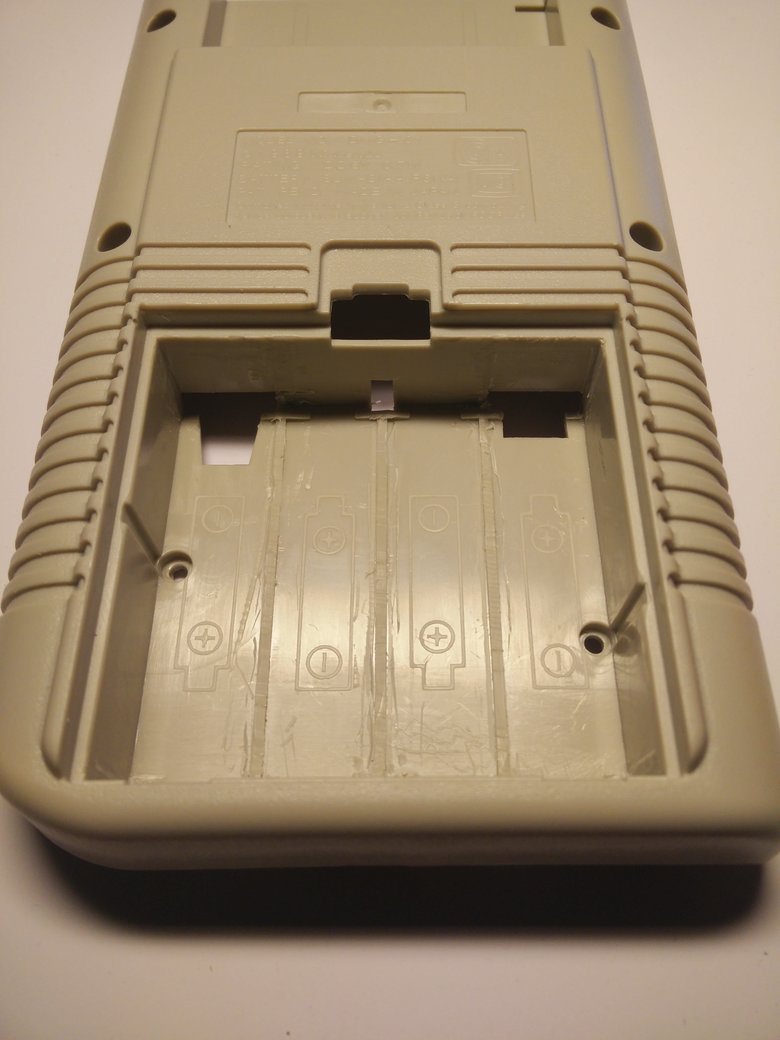 -----------------------------------------------------------------------------------------------------------------------------------------------------------------
OK modders, here's the thing..... I've got some good news and and some not so good (to say the least).
I'll start with good one as it is hard to come by in this thread

38%
of orders are packed and ready for post office

Vast majority being orders with standard shipping. Why not signed for shipments? Now we come to not so good part.
Last week when I was in Croatia for holidays I sent one test signed for shipment. And thing went not to US but returned back to me in Slovenia. I thought I would lose it when I saw it was back. Damn thing just won't go to an airplane. Apparently someone in Croatian customs office doesn't share my opinion about power bank being a device with built in lithium battery. They consider it a "additional battery". Additional battery of what exactly? My understanding of international regulations is if something has "built in" battery and can't be removed like let say laptop's battery then it falls in category of items allowed in airmail traffic. Same regulations also forbid things like laptop battery being shipped separately as it is treated as pure lithium battery. For me laptop battery and power bank aren't same thing.
I feel like I'm doing master's degree in: How to ship lithium batteries via airmail without killing yourself. They are killing me! And since power bank isn't sufficient enough device with built in battery I have to come up with something new, something more obvious.
My solution is adding a pretty big COB LED element and a button and calling it "rechargeable camping light". And they better believe it is.
Since best prices for this two things have Chinese it can take another week before DHL delivers it to me. Costs are on me but yet more waiting is on you - unfortunately. Another partial solution is anyone from
US and Germany
who ordered
signed for shipping can switch to standard
as I can send those. For these I could offer some shipping refund if one wished so.
Other than that I'm running out of ideas here

Comments are welcome.
-------------------------------------------------------------------------------------------------------------------------------------------------------------------
First of all I have to again apologize to everyone for delays and problems with battery dispatch. It is my first big community purchase I'm trying put through but I shouldn't use this as an excuse. It was mentioned before in few posts that solution is contributing additional funds for shipping costs. I got news yesterday that German post also won't take packages. So only solution left now is Croatian post and as mentioned before their shipping costs are double those I accounted for with Slovenian post. I was crunching numbers for last couple of hours and here is my proposal:
Prices in this chart are

NOT

for new orders! Just for additional contributions.
New order link will be posted soon.
(this chart describes what was your initial order and how much funds you need to add)
(+3€ for signed for shipping is to point out extra cost of signed for shipping by Croatian post and you should add it to your contribution)
1 battery with standard shipping: 3€
1 battery with signed for shipping: 3€+3€=6€
2 batteries with standard shipping: 6€
2 batteries with signed for shipping: 6€+3€=9€
3 batteries with standard shipping: 9€
3 batteries with signed for shipping: 9€+3€=12€
4 batteries with standard shipping: 12€
4 batteries with signed for shipping: 12€+3€=15€
5 batteries with standard shipping: 15€
5 batteries with signed for shipping: 15€+3€=18€
Please note it's not desirable for you to now change your original order from standard shipping to signed for shipping as I have 1/3 of orders already packed and sorted. And with many orders there is more work involved then just moving to another pile. Hope you can understand. Thank you
Click on button below and enter appropriate amount for your order.
I know some of you might not agree with this solution but I can't think of anything else. Thing is paypal will still take their fee for every transaction and what I'm left with will just barely cover shipping costs if everyone pitches in. Time and gasoline for 200km trip to Croatia are on me. This was a tough lesson but I guess it was a necessary one. But since lots of you already expressed their support for idea of shipping contributions I believe payments will be made as soon as possible to let me process everything swiftly.
In meantime orders are being packed and first batch is going to post office on Monday. I will also post video instructions on how to open power bank case to get battery out without any hassle.
As for all of you still waiting to get your hands on one of these batteries - don't worry. Let me process this preorderd ones and then I'll get ready for new orders. I might wait for stock to sell out and make just one trip to post office but it depends on how fast it will sell.
This is all for now. I will also send this update to your paypal email addresses so everyone is notified.
PREORDER CLOSED

If you missed first preorder don't worry.
I have ordered extra batteries and will post new link where to buy them once they arrive.
Since they will be in stock and ready to ship asap price will be few € higher.
THE Update:
It is finaly here

Preorder is now open till
March 5th 10PM CET
As mentioned and described throughout this thread you now have opurtunity to
preorder
custom size (58x54.5x12mm) 5100mAh lipo battery for your gbz projects and other where you have 4xAA battery compartment.
For 16.00€ you will receive
-
one
5100mAh battery with leads and JST PH 2.0 connector that is compatible with @kite's WIP board, Adafruit Powerboost and many other
-
one
powerbank case
- standard international shipping
As explained in thread battery will be sent in powerbank case to avoid any problems with postal services and regulations on sending lipo batteries.
Once preorder closes I will crunch the numbers and make orders for batteries and powerbank cases. Cases should take 2 weeks to get sent and batteris up to 5 weeks

Add to that 1 week for delivery and couple of days for me to pack and send everything and let's say another week or two for delivery and you should be expecting your preorder in
8 weeks

I know it seems a lot but I guess this is worst case scenario.
I hope this won't disscourage you from preorder.
If you want to shed off couple of days or maybe a week (and to make sure things don't get lost) there is option for
priority signed for postage
that will cost you aditional 3.00€ per order.
When you add items to PayPal cart you will see content of your order in new window where you will be able to set how many batteries you want to order.
If you want to use priority signed for delivery add it to your cart and make sure you have set quantity to
1
as it is per order not per item. If you make a mistake let me know
before
preorder ends and I will refund what you overpaid. Once I make orders and pay for batteries and cases there is no refund except for signed for delivery. Or you can add signed for delivery till things get sent.
Make sure you enter correct delivery address when you preorder as that is address items will be sent to.
For any aditional info pm me or ask here.
Custom GBZ 5100mAh lipo battery, 16.00€
Priority signed for delivery (one per order), 3.00€
Now go for it

Update:
As manufacturer made mistake and wrong cells were used sample batteries turned out to be 5100mAh packs. With tests I confirmed this capacity with repetitive results in range of 5000mAh.
At the moment I can't even get real 5700mAh samples as all 1900mAh cells are sold out.
So I opted to stay with 1700mAh cells in 1S3P configuration.
Still waiting on some details then preorders will open

Original post:
In process of preparing all parts needed for my gbz project I found one thing bit disturbing: battery, lipo battery. With so many options in size and capacity I found my self a bit lost. But one thing was for sure - I didn't want to hack up my gbz case to fit decent size in there and all standard sizes I could find just didn't seem like the best I can get.
So I got in touch with few chinese manufacturers and managed to get a deal on few samples. Two weeks later and boy was I a happy camper

Such a snug fit I just couldn't belive it.
Whopping (stated) 5700mAh in pack of 58x54.5x12mm (protection circuit board included) with standard JST PH 2.0 connector.
Battery compartment had to be modified slightly but it is still one solid piece.
Since I just got samples I haven't had time to test capacity properly but intend to do so by end of the week. If it all works out as it should I will try to negotiate a deal for larger quantity and organise a preorder for that as I imagine quite few of you could use decent battery for your projects.
I guess it could be used in other projects that have standard 4xAA battery compartment, you should just check the dimentions if it will fit.
Keep following this thread for progress if you might be interested in such a battery