After months of waiting, finally was able to finish my GBZ with Kite's amazing board.
Added a few custom features that I will detail in the next few days besides the normal SNES layout. Here is a list.
Decided on L1 and R1 buttons only on upper top side of case
Used my custom made bracket with brass inserts to position the screen and button wells perfectly with a tight closed fit
Added status lights from Kites board to a custom made cartridge that is removable and connects through cartridge slot
Used a 4800 ma Samsung battery with built in pogo pins in battery compartment that fits perfect for a stock look
Went with a low-profile switch so no notching in the case seen when cartridge removed
Used a 3D printed template to cut out screen opening perfectly
Used a glass screen cover and painted the black border myself
Made a custom black and white theme, splash and cartridge stickers to go with the build colors
Custom fit the Ext Connector cover to cover the external USB
The build came out exactly as I had envisioned and works like a dream. Here is a preview with more pictures to come later.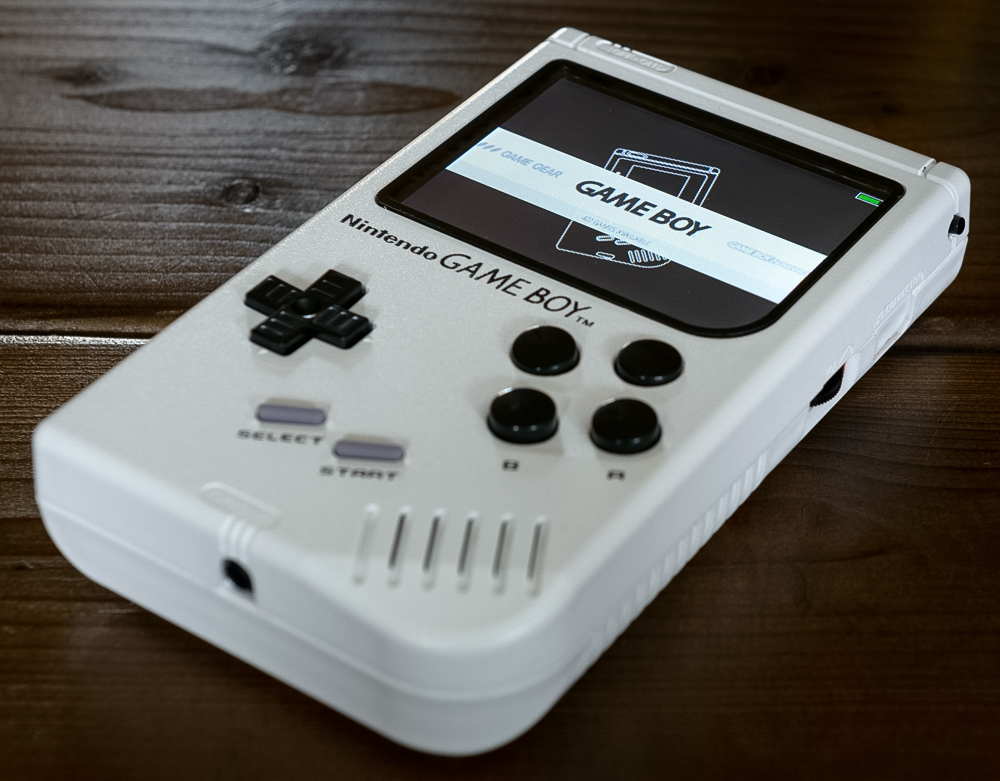 -------------------------------------------------------------------------------------------------------------------------------------------------------------------
Case Cutout
So first step, I needed to do was do my case cutout. Was able to just do the screen cutout early after order board since I didn't need the board to do that. On my first build I cut the screen hole out manually. It was a real pain and even then I was not happy with not having perfectly straight lines or even thickness around the border. The thickness is important as too thick and you'll see it even with a screen protector. Too thin and you'll have issues with attaching the screen protector. I just applied some of my woodworking skills and used a 3D printed template and a router. It makes quick work for this job.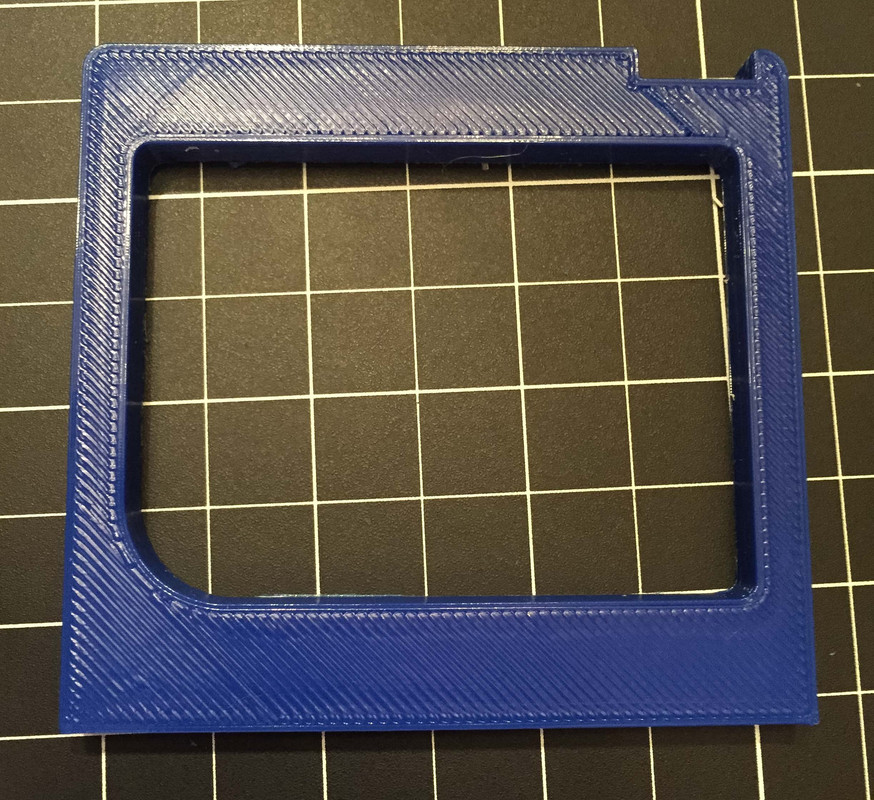 Here is the end result.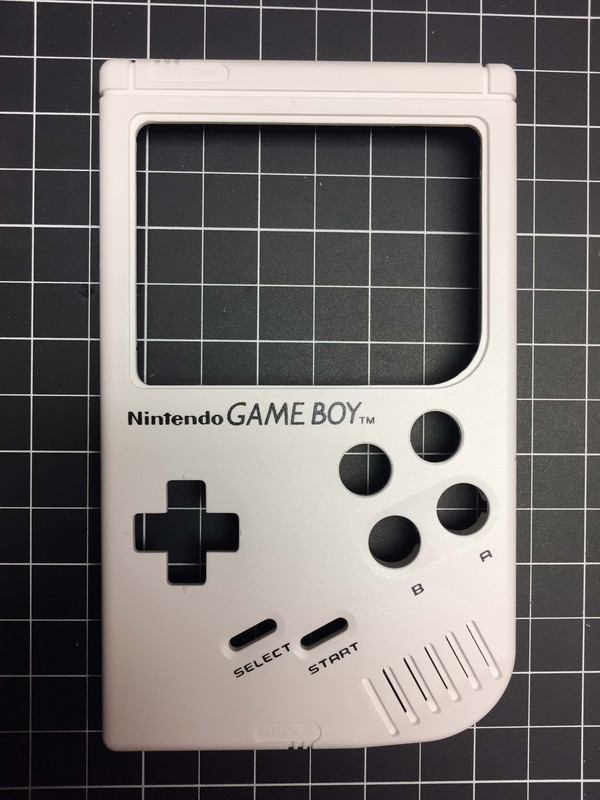 You can follow this link to see more detailed process.
Screen Cutout Guide
3D Printed Bracket
After getting the board the next thing on the list was to make the holes for the X and Y buttons. I really wanted a way to secure the two case halves without the need to glue posts to the screen. I went with this bracket I designed with help and input from Kite. It did everything I needed by centering the screen, taking care of the X and Y button wells, and of course closing the case securely.
HoolyHoo SAIO Bracket
Show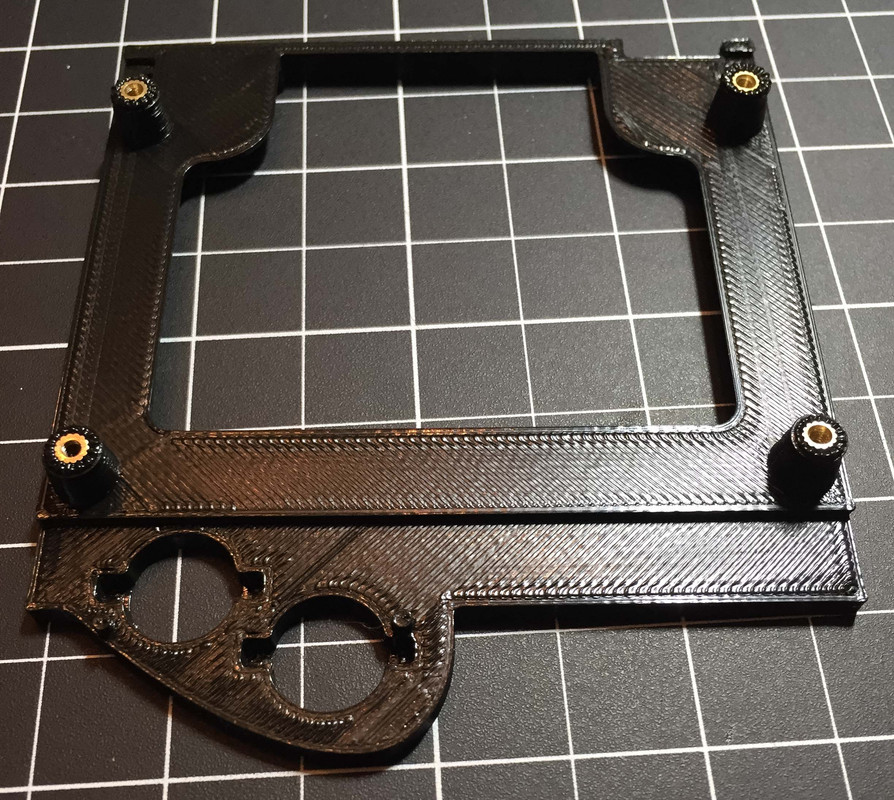 Here is a few test fit images. Fits like a glove. The brass inserts works really nice and makes the case closure nice and tight.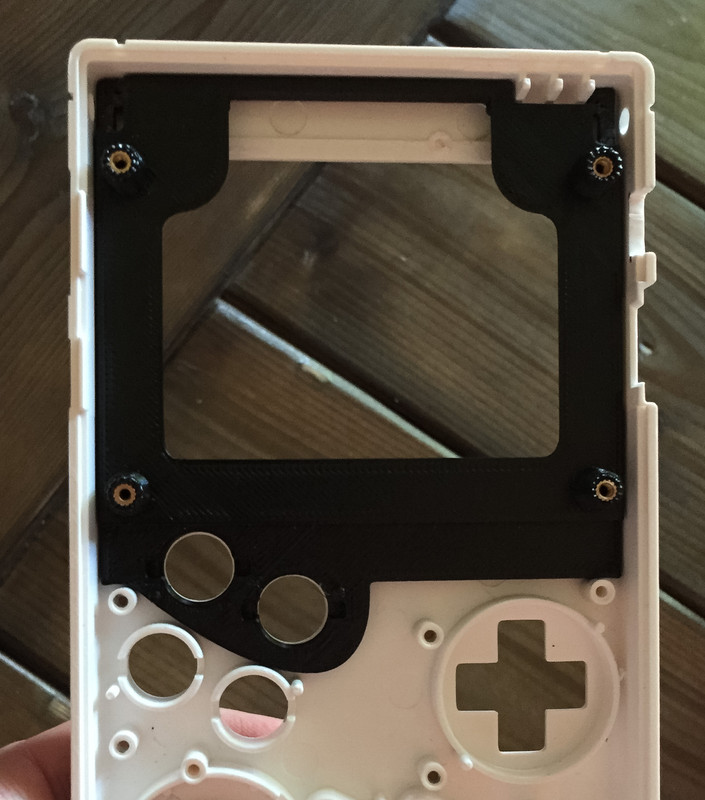 Screen and well align perfectly.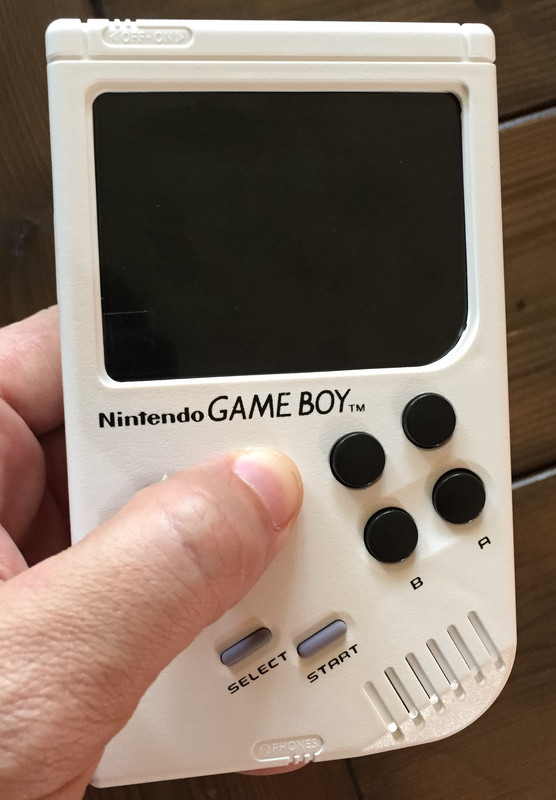 If you have a 3D printer or want to purchase this bracket, follow this link to obtain.
HoolyHoo SAIO Bracket Thread
Battery Compartment
I bought this battery online.
4800 mA Battery.
From the start I was looking for a battery that would fit in the original battery compartment but was at least 4000 ma. This fit the bill as it fit perfectly with only a little modification to the case battery compartment. Since it was a cell phone battery I got the idea of trying use pogo pins just like a phone that would make removable seamless and look "stock". Luckily I had an old Motorola phone, circa 2005, and I removed the pogo pins and used it for that purpose.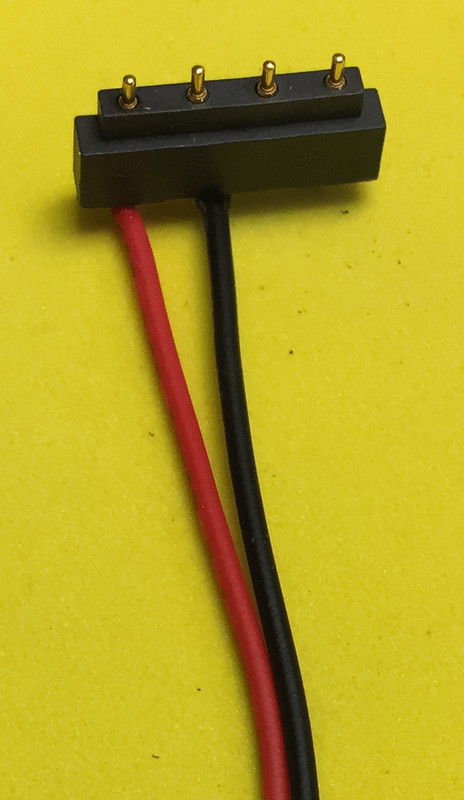 Placed in the side of the case like this.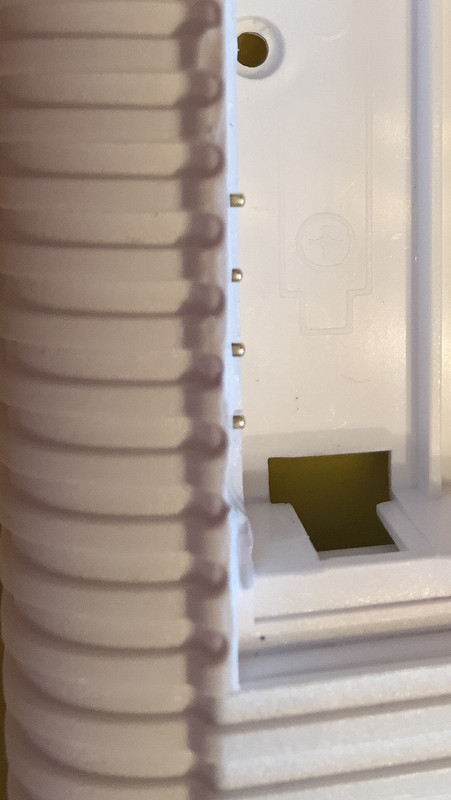 And here is the battery inside the compartment.
Battery in Compartment
Show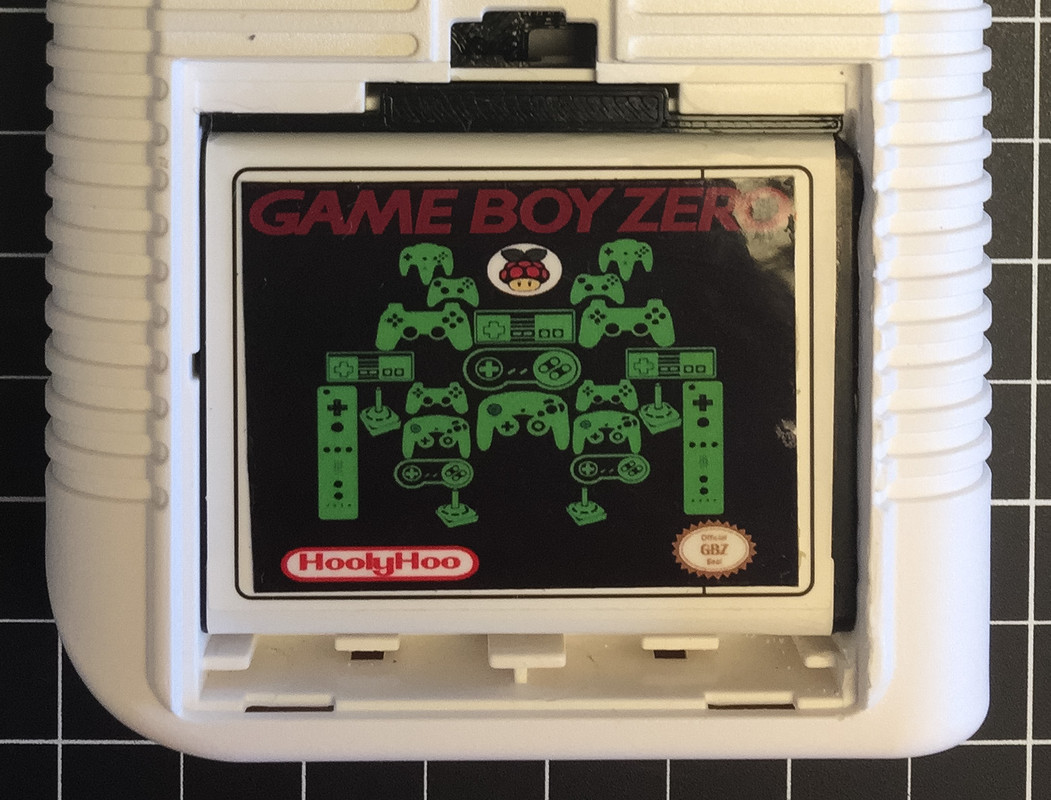 Fits and works great
Internals and Shoulder Buttons
So now it was time to test Kite's board, after all its the heart of the build. Got it all soldered up and fired it up.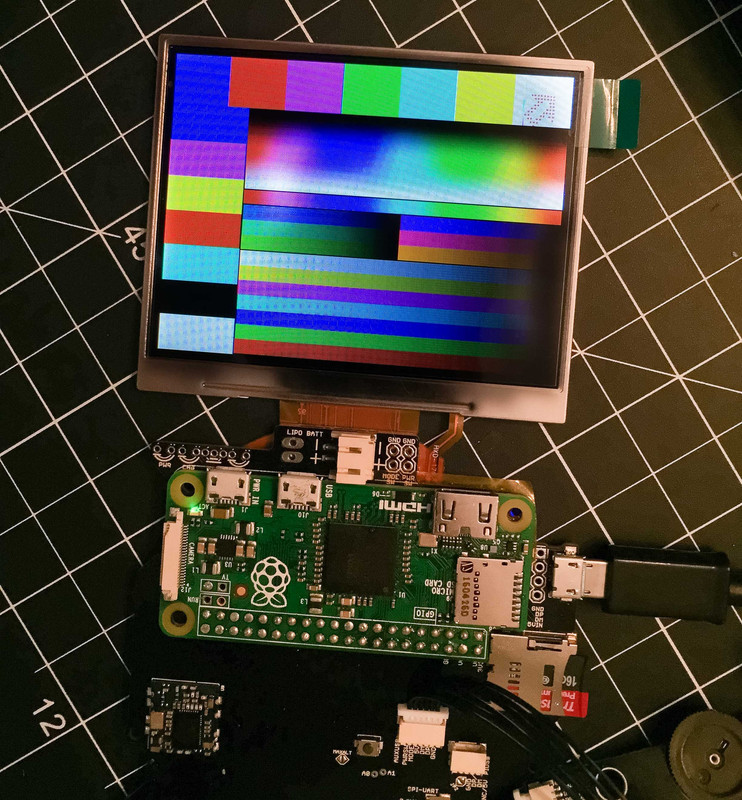 She is a thing of beauty. That screen looks awesome.
Shoulder buttons was something I thought about for a long time on where the best placement would be. I knew I didn't need L2 and R2 buttons as I don't play any games on this console that would need them. On my first build I had placed them on the backside and they worked fine but there was two things I didn't like about them. One, it didn't matter where on the back they were, it just didn't feel ergonomic for me as when my fingers were under the case the motion was still hard to press the buttons. And two, having the buttons on the bottom meant I needed to run wires from the bottom half to the top half since that is where the board was.
I solved my problem by deciding to place the buttons on the top half of the case near the very top of the case on either side. With the buttons there I could press them with my index fingers which seemed to rest up there anyway since I have big hands. The motion, to me is much more natural to me and also since the buttons are now on the top half, I could keep the wires on the same side of the case.
I used standard tact buttons that protruded long enough to make it easy to push but not too long where they looked awkward. I made a special edition of my bracket with notches for the button that fit perfectly just above the screen. Here is a photo of the top half with the shoulder buttons, screen, board and bracket installed.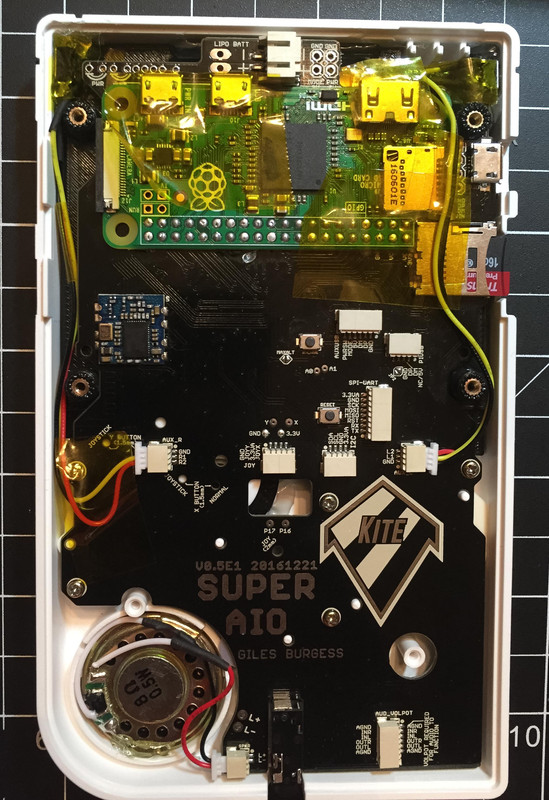 Nice and Tidy!
Also, I was able to source a lower profile switch (Thanks Camble!), that allowed me to do the build without having to notch the case where the switch sat. The switch was just the right height and has the right amount of slide and it feels just like the original GB switch.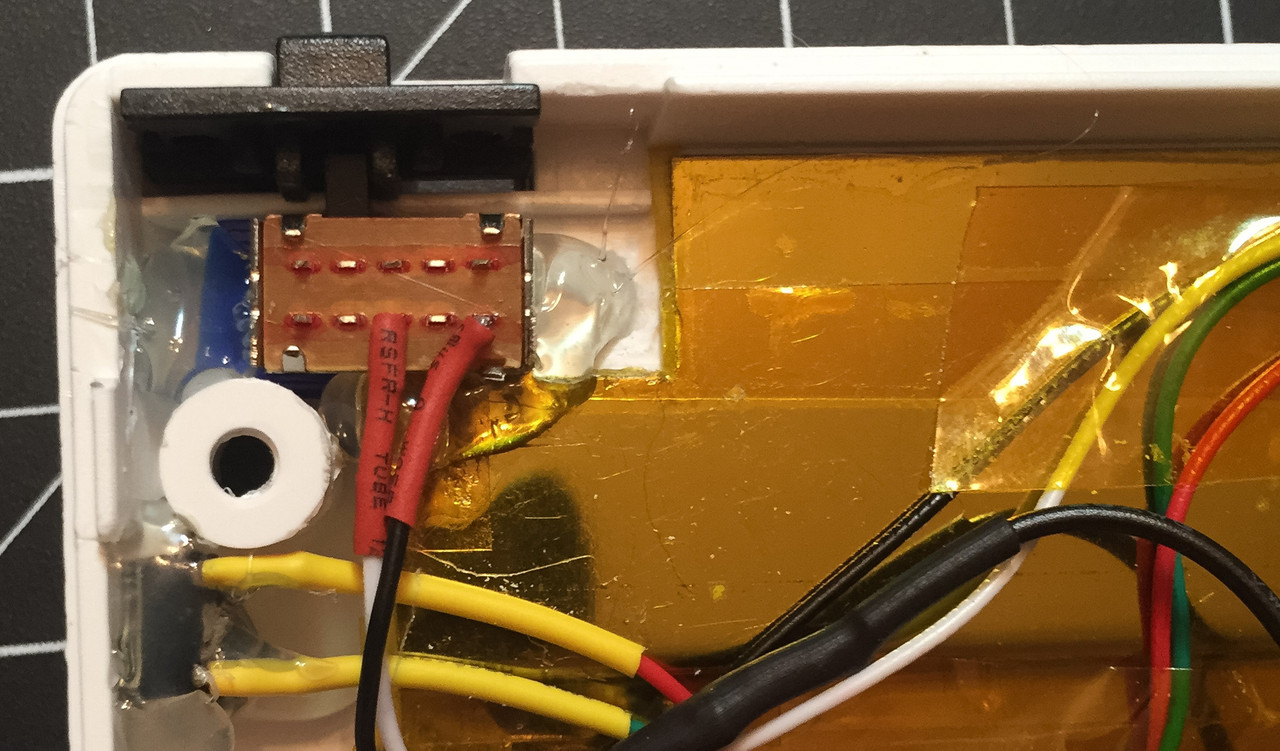 Game Cartridge and Status Lights
So trying to keep that "stock" look, I wanted the status lights from Kite's board but I didn't want to drill holes in the case to display them. I knew I was going to be using an original GB cartridge connector that I had left over from my last build. I also knew that I wanted my cartridge to be removable but had no idea what to use it for. Then, in the middle of the night, like in a dream, I got the idea that maybe I can connect the status led's to a real cartridge pcb and have it connect to Kites board through the connector. So I made this without knowing if it would work.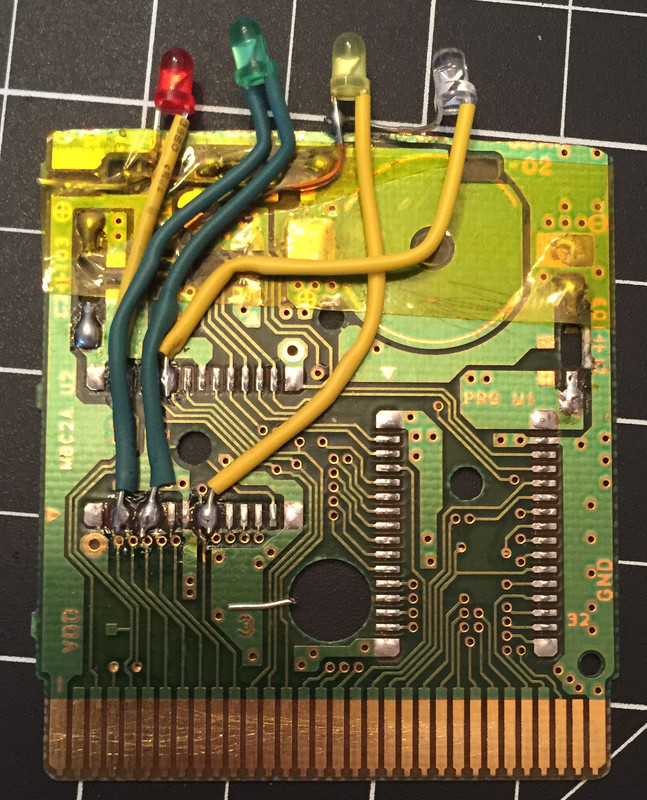 Four colored 3mm LED's
Now that I had that done, I wanted an easy way to connect it to Kite's board. Luckily I had some 6 pin connectors that fit perfectly in the original GB connector plastic divider at the top. I couldn't believe how well it fit. Now it was just a matter of hot glueing it into place and soldering the leads. Easy to plug and unplug when I need to.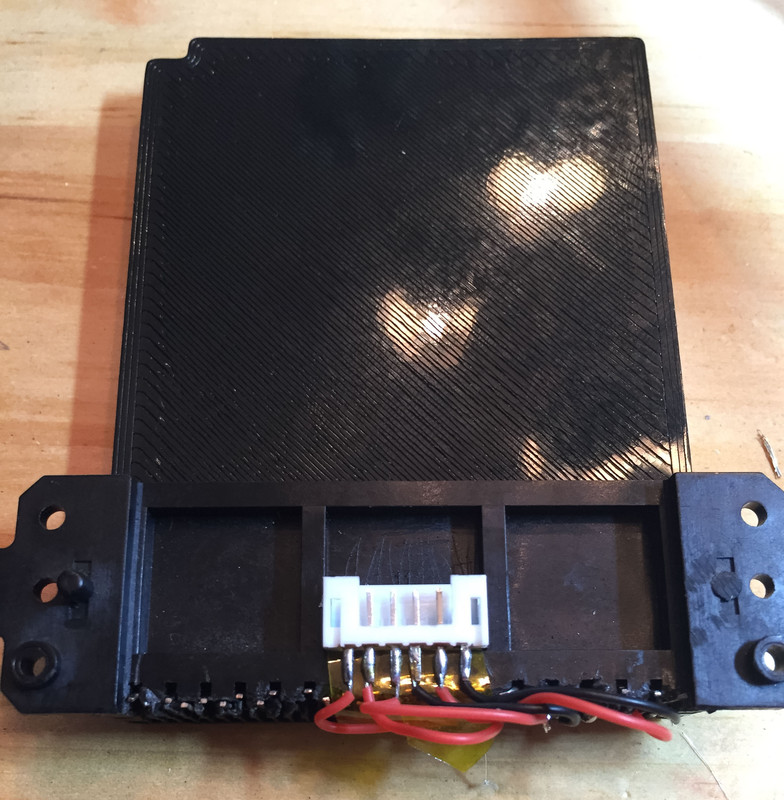 I suppose I could have used an original GB cart but hey, I have a 3D printer, so I made my own cart. Now the only thing left to do is see if the thing actually works without blowing up my board. And...
Yeah, she works!
And another.
Theme
So from the beginning I knew what the color scheme of my GBZ would be, black and white. I liked the simplicity of it and the clean look. So I took a couple of built in themes (Carbon and IO) and combined them to my liking. I darkened the IO theme to get a true black and white and used the graphics from the Carbon theme. I enlarged the graphics in systems view to be better seen by enlarging and enhancing contrast. I also adjusted the detail and basics view to be more readable on the 3.5 inch screens we are using. I think 10 games on the screen at a time in the basic view and 5 games on screen with the detail view look good to me. I just modified the consoles that I use on my GBZ which are Atari2600, Atari7800, Atari Lynx, GameGear, GB, GBA, GBC, Mame, Sega Genesis, NES, SNES, NGPC, Turbo GfX, and the RetroPie menu. If someone needs another system, let me know.
I decided to name the theme StormTrooper after the suggestion from forum member TheDeviantZen. Thanks for the idea. Here are some screenshots.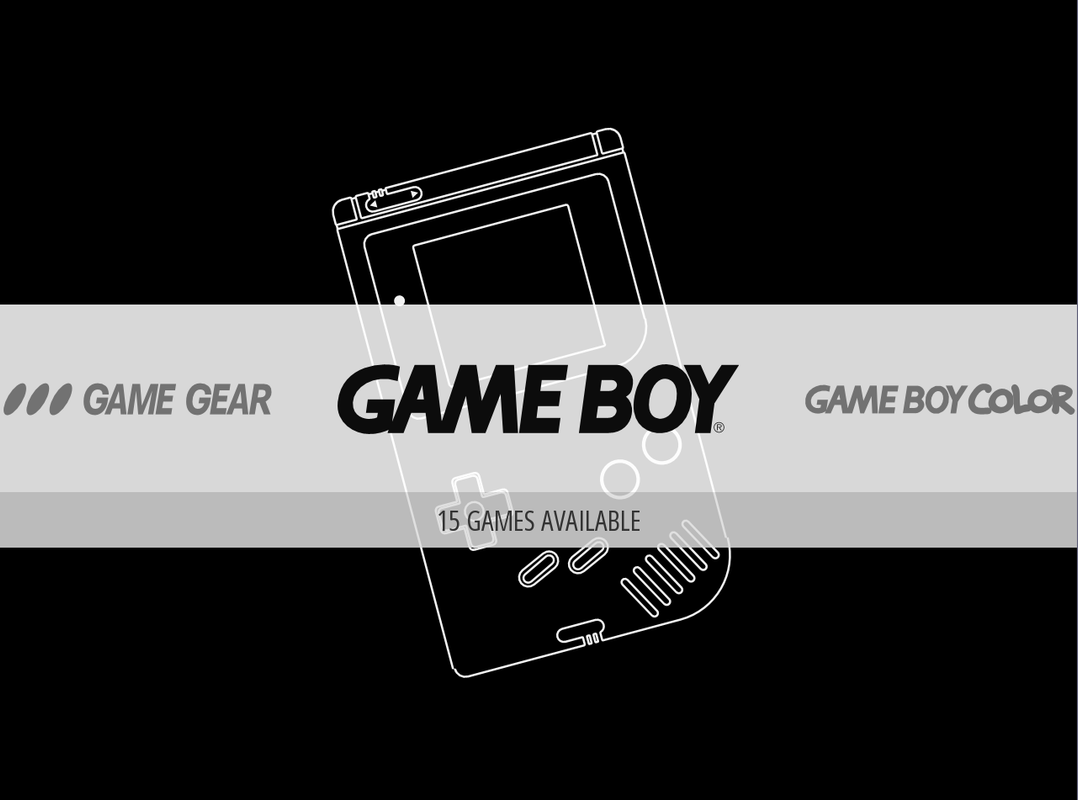 System View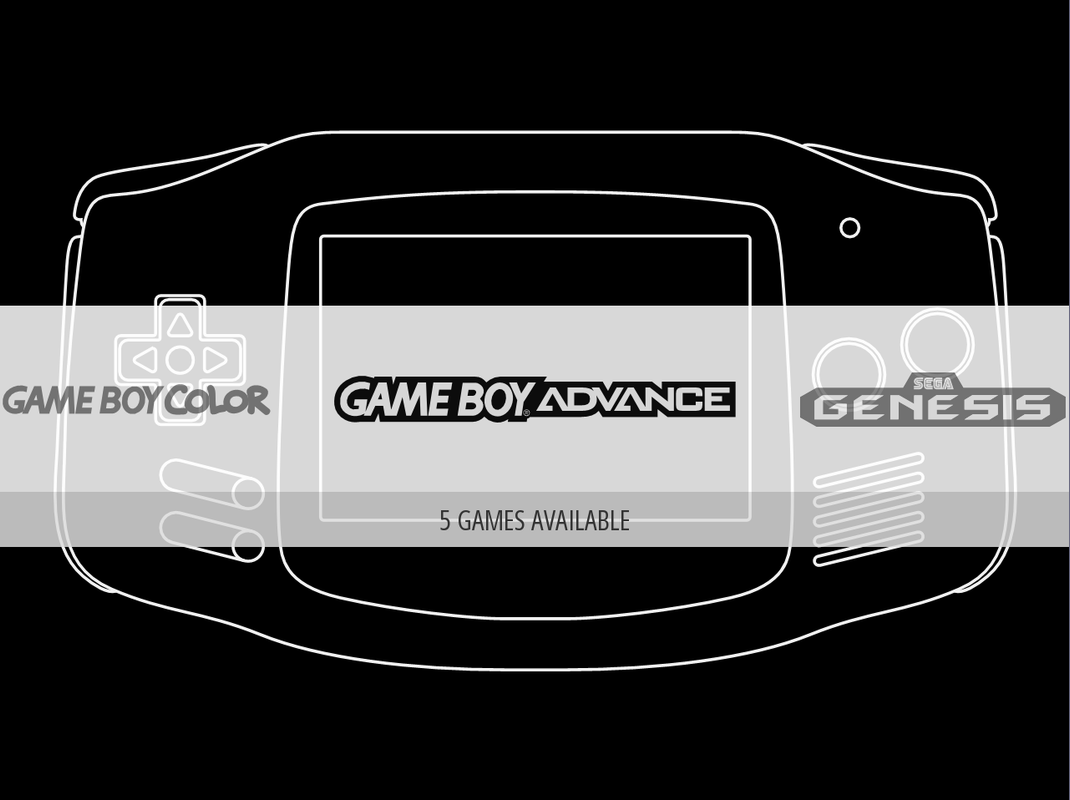 Another System View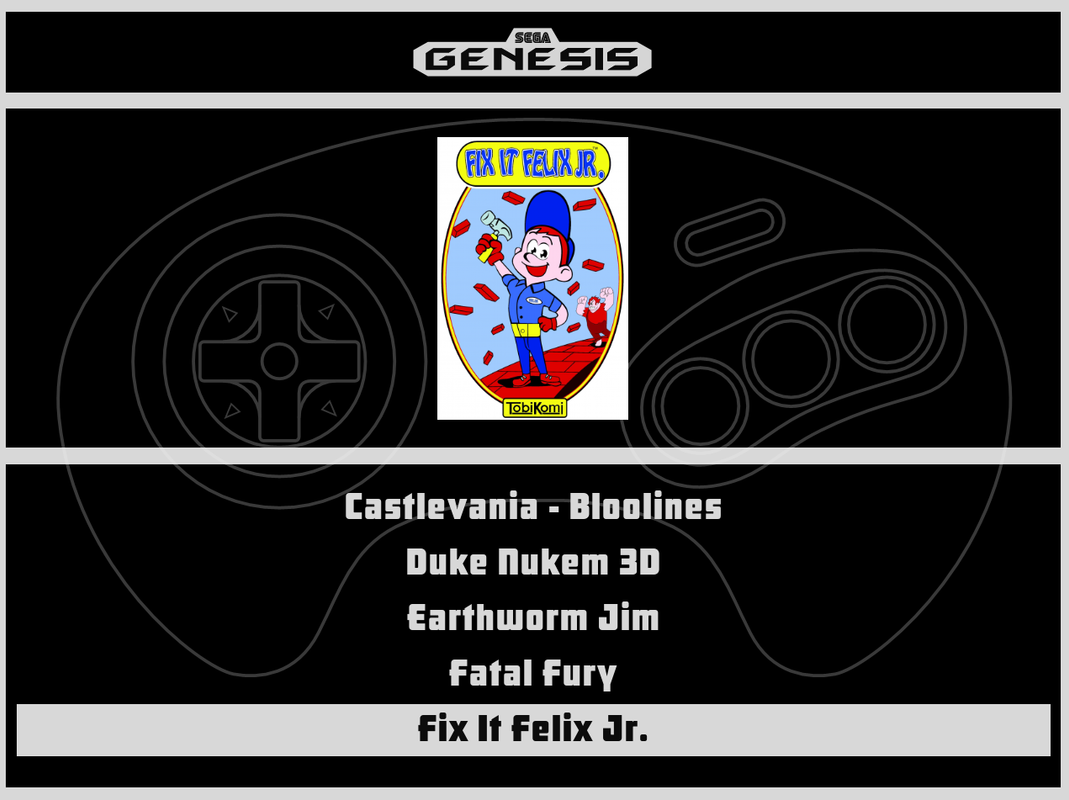 Detail View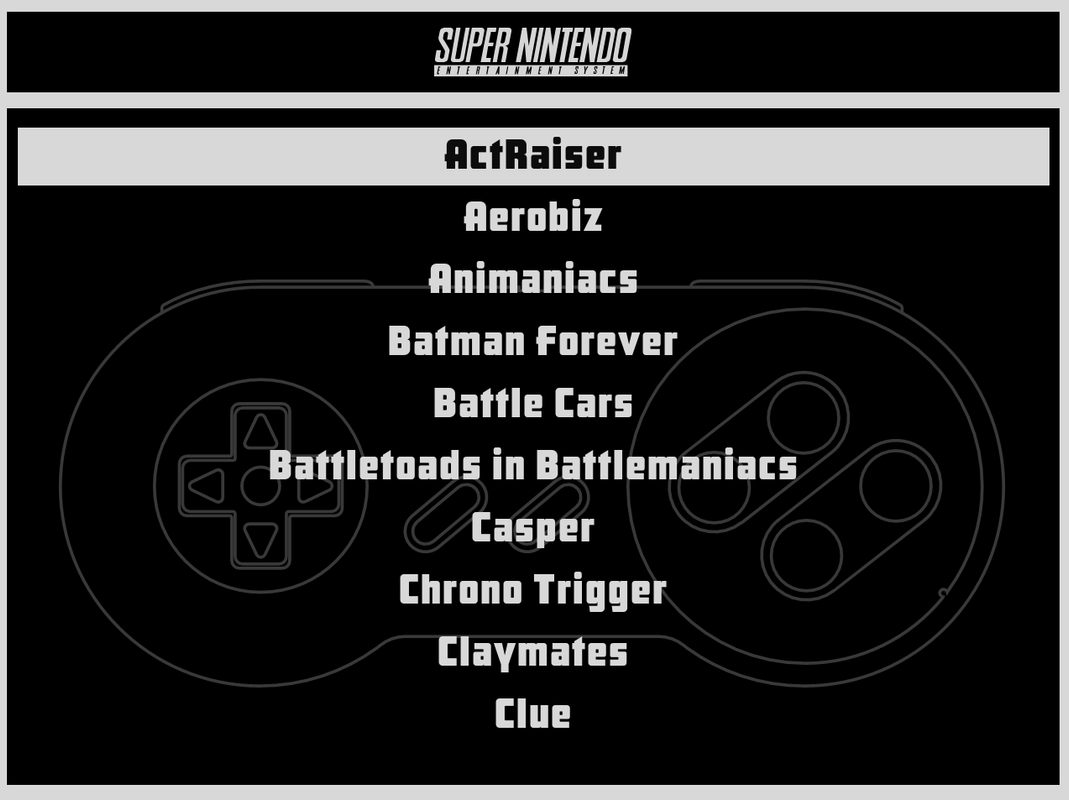 Basic View
You can download it here.
Storm Trooper Theme Download
Show
Finishing Touches
Last thing left was modifying the EXT connector that came with my GB shell.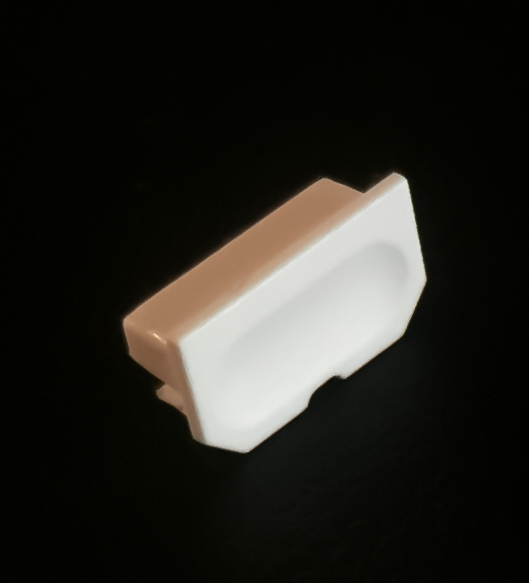 With a Sharp Exacto Knife, Notched It Like This
Show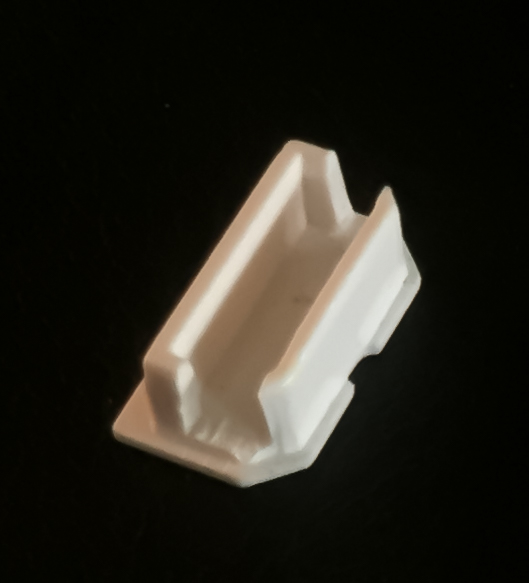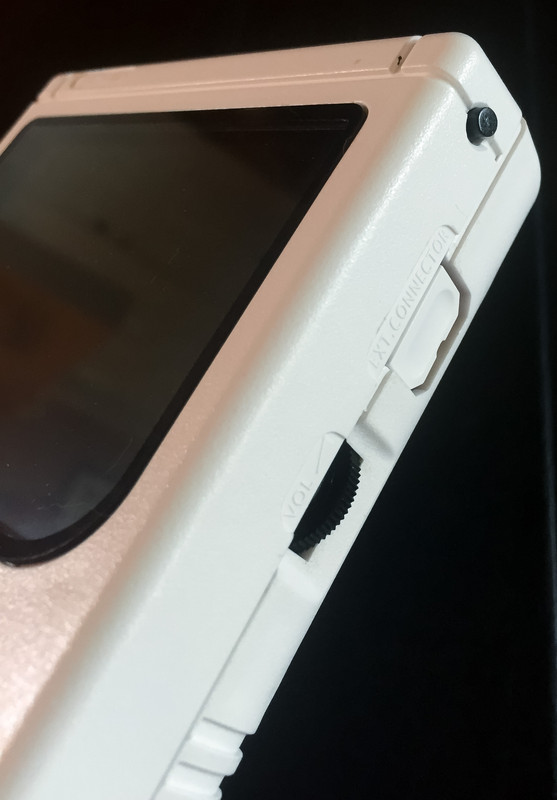 Attaches nice and snug and doesn't fall out but easy enough to remove if USB needed.

Very last thing is I took a glass screen protector I had bought for a few dollars and spray painted a 2mm black border on the back side so it would be shiny when seen through the glass and it would not get scratched. I was able to get a perfect border by cutting out a vinyl sticker template on a plotter cutter. The template covered the glass and only left the outside 2mm border. I spray painted and let it dry. Here is a picture of the vinyl template.
Vinyl Sticker Template
Show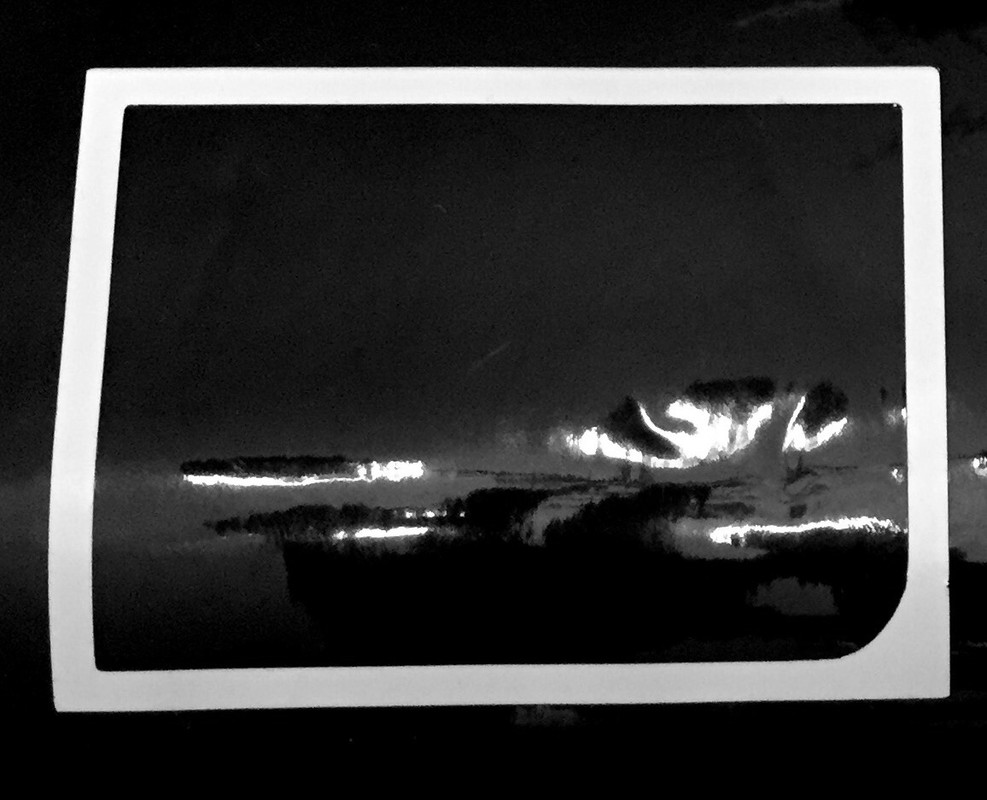 I used very thin strips of double sided tape to secure the screen and also used a black oil paint marker to hide the white vertical border of the inside of the screen cutout. Screen protector came out great. Here is a photo on a color version theme.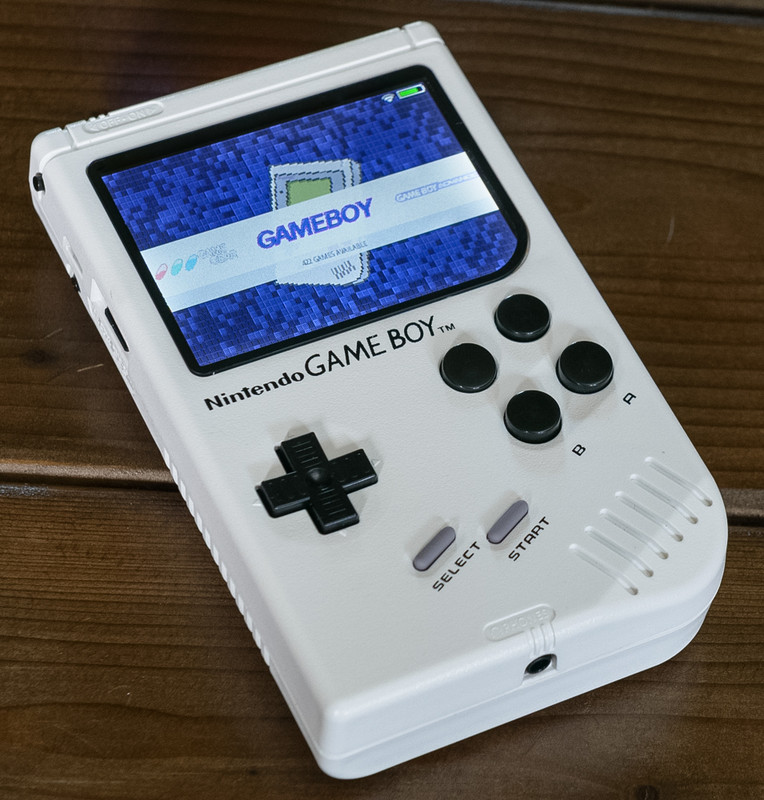 Thank You
I am very pleased on how the build came out but I could not have done it without the help of forum members such as Kite, Wermy, Helder, Camble and many others who have inspired me. For that I just want to say Thank You. I will do my best to keep paying it forward!

Happy Modding Folks!