Use a multimeter in continuity mode, or look at the manual, or check this pic: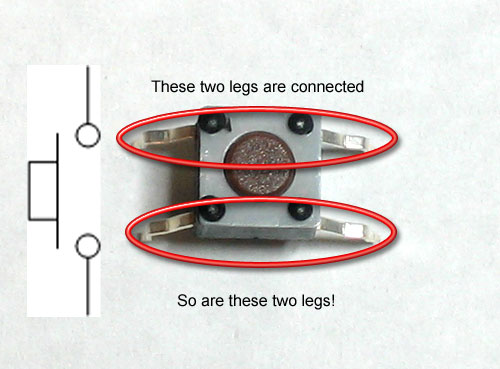 What you can do is 'fold' the pins over so that they meet, and solder the wires onto the join of the fold.
My LCD colours are weird or doesnt display at all
Show
If you are having LCD issues, then FIRST make sure that your Pi is actually booting. The green LED on the Pi itself should flash rapidly (indicates SD activity). Also make sure you have written the FLASHER image to the SD.
An LCD issue is either a soldering issue, or a ribbon cable seating issue. Make sure it is seated fully (you won't be able to see the metal contacts when it is fully inserted) then, check the following image:
The PINK ones are the most important, if you have done these then the screen will show you 'something' .. when the TESTER image loads up, the TOP 3 COLOUR BARS should show RED, GREEN, and BLUE .. if any of them don't look like a smooth transition, then that is the colour area that needs fixing! You can see the image above for which pin d
oes which colour, and re-work those.
It boots but freezes or safe shutdown doesnt work
Show
This is most likely a bad connection on either of these two pins:
1. Power everything off (including removing the micro usb cable)
2. HOLD the START button
3. Plug in the micro USB to the SAIO board (you DON'T need to power up the console with the switch, just apply power and the LEDs will come on).
4. You should notice the ST1 LED (or the external STATUS LED) will flash quickly 4x times, and then for the next 10 seconds it will begin flashing on and off fairly quickly (it's pretty obvious).
5. During that 10 seconds, slowly rotate the joystick all the way around and keep rotating it (this is now calibrating)
6. Done!
PSP1000 pinout:
Testing power without the backboard
Show
Place a wire in these holes or use some tweezers:
Run tester image on HDMI
Show
Put SD into PC, open with NOTEPAD++ (don't use normal notepad!!) and remove the #'s from lines to 'uncomment' and add a # to lines to 'comment'. You only want one or the other modes, in the image below DPI is enabled:
GUIDE HERE:
https://github.com/geebles/Super-AIO/wi ... duino-Code
Could you download the github repo (
https://github.com/geebles/Super-AIO/archive/master.zip
) and unzip it, and then go into 'source/SAIO_Arduino/SAIO_v2a' and open the .ino file with the Arduino editor.. then plug the SAIO in WITHOUT POWERING IT UP to the PC, and in Arduino click 'tools -> board -> Arduino Leonardo' and then 'tools -> port -> COM XX' .. then press 'Upload'
You may need to go into libraries -> Manage Libraries -> *search* "HID-Project"
If you get errors on compiling..
FAQ
-
Solder isn't melting!
- Use a bigger solder tip. You want to get the right amount of heat into the pads without needing the iron too hot. A small tip and a cheaper iron might not work as you'll have to turn the temp up a lot to get it to melt, while then melting off small pads because it's too hot! Get a bigger tip, at the right heat, and you'll have a better time