BW 3.5 Composite Display
From sudomod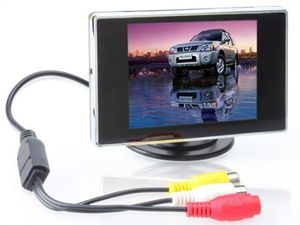 Notes
This is a composite backup camera screen being used in several GBZ projects.
There seems to be at least six variants to this screen, as reported by users.
The red cable is power, black is ground, and yellow and white are video outputs.
In some cases, it has been reported that when running unmodded at 5V,
some slight video phasing can occur due to been underpowered.
If it does, you can place a jumper cable from the VCC pin to pin 3 of the IC.
Specifications
Variant 1

Website

Amazon.de

Seller

BW Corp

Brand

BW

Input

Composite (AV/CVBS)

Resolution

320 x 240 px

Screen Dimensions

76 x 64 mm

Active Area Dimensions

70 x 53 mm

Button Board

included

5 volt
compatibility

no modification necessary

Projects
that used it
Variant 2

Website

Amazon.com

Seller

she-love

Brand

BW

Input

Composite (AV/CVBS)

Resolution

320 x 240 px

Screen Dimensions

76 x 64 mm

Active Area Dimensions

70 x 53 mm

Button Board

not included

5 volt
compatibility

with modification

Projects
that used it
Variant 3

Website

Amazon.com

Seller

ATian Direct

Brand

BW

Input

Composite (AV/CVBS)

Resolution

320 x 240 px

Screen Dimensions

76 x 64 mm

Active Area Dimensions

70 x 53 mm

Button Board

not included

5 volt
compatibility

no modification necessary

Projects
that used it

Zeke's Pi Zero
Variant 4

Website

Amazon.com

Seller

e-life

Brand

BW

Input

Composite (AV/CVBS)

Resolution

320 x 240 px

Screen Dimensions

76 x 64 mm

Active Area Dimensions

70 x 53 mm

Button Board

included

5 volt
compatibility

unknown

Projects
that used it

brettygud_'s GBZ
Variant 5

Website

Amazon.co.uk

Seller

BW Corp

Brand

BW

Input

Composite (AV/CVBS)

Resolution

320 x 240 px

Screen Dimensions

76 x 64 mm

Active Area Dimensions

70 x 53 mm

Button Board

included

5 volt
compatibility

unknown

Projects
that used it
Variant 6

Website

Amazon.com

Seller

Niceshopping

Brand

BW

Input

Composite (AV/CVBS)

Resolution

320 x 240 px

Screen Dimensions

76 x 64 mm

Active Area Dimensions

70 x 53 mm

Button Board

included

5 volt
compatibility

unknown

Projects
that used it

Delta's GBZ
Variant 7

Website

Amazon.co.uk

Seller

BW Corp

Brand

BW

Input

Composite (AV/CVBS)

Resolution

320 x 240 px

Screen Dimensions

76 x 64 mm

Active Area Dimensions

70 x 53 mm

Button Board

included

5 volt
compatibility

no modification necessary

Projects
that used it
Additional Pictures